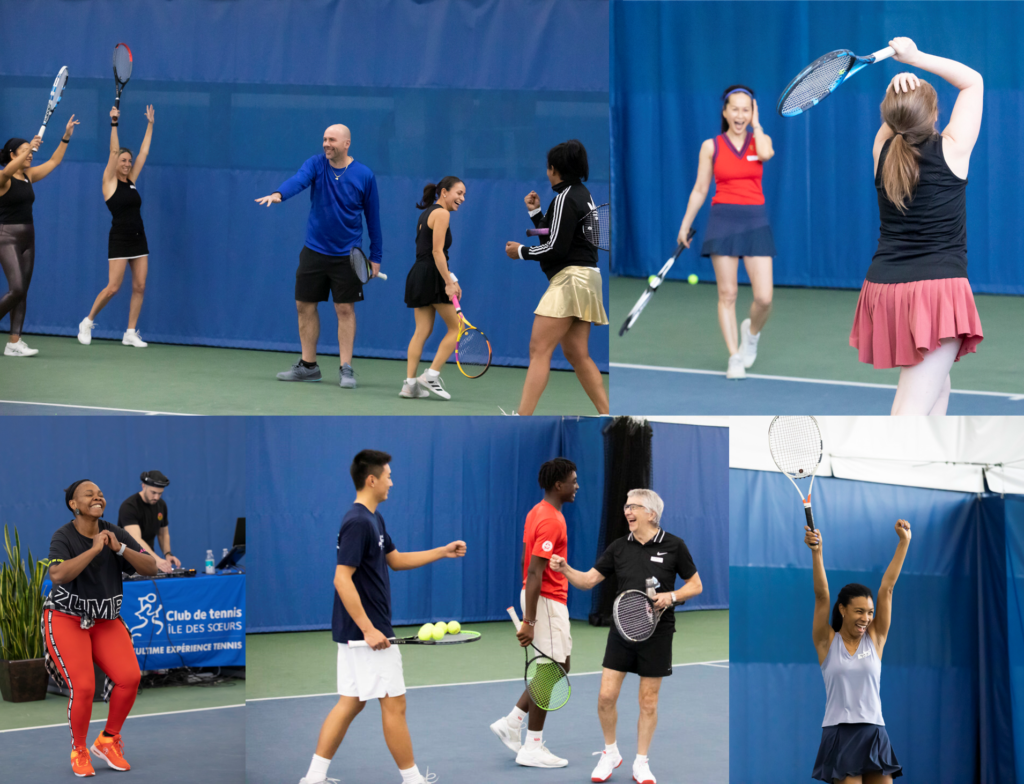 English will follow
Suite aux succès des deux premières éditions, nous sommes très heureux de vous annoncer que le Tennis en Fêtes! sera de retour pour une troisième édition le 10 décembre de 13h30 à 16h!
Inscrivez-vous dès maintenant directement à la réception ou par téléphone en communiquant avec Anne Attia au 514-766-1208 poste 228. Faites-vite, les places sont limitées! La date limite d'inscription est fixée au lundi le 5 décembre.
Plan de la journée
–   13h30 : Accueil
–   13h45 à 14h : Échauffement Zumba animé par Youma;
–   14h à 16h : Ateliers tennis en rotation avec nos pros sur 14 terrains, un D.J. enflammera l'ambiance!
–   16h : Rassemblement et remise de prix de présence au Bar L'Après-Match (le 1er verre est offert)
Exemple d'ateliers tennis: «Ping-pong tennis», «Beat the pro», «Winner» et plusieurs autres jeux!
Frais d'inscription : 55$ + taxes
Cette activité est ouverte aux membres et non-membres. N'hésitez pas à inviter vos amis!
Réservé aux joueurs de 18 ans et plus.
Niveau minimum 2.5 (intermédiaire).
AUCUNE INSCRIPTION LE JOUR MÊME.
Aucun remboursement après le 5 décembre.
Entre 14h et 16h, seuls les terrains sur terre-battue seront disponibles pour réservation.
Pour toutes questions, veuillez contacter Anne Attia au aattia@tennis-ids.com
Following the success of the first two editions, we are pleased to announce that Tennis en Fêtes! will be back for a third edition on December 10 from 1:30 to 4 p.m.!
Registrations are currently underway until Monday, December 5th! Register directly at the front desk or by contacting Anne Attia by phone at 514-766-1208 ext. 228. Hurry, limited spots are available!
Event schedule
–   1:30pm: Welcome
–   1:45 pm to 2 pm: Zumba warm-up with Youma!
–   2 pm to 4 pm: Tennis stations on our 14 hard courts, a D.J. will ignite the atmosphere!
–   4 pm: Award Ceremony at Bar L'Après-Match (first drink is on us!)
Examples of stations: «Ping-pong tennis», «Beat the pro», «Winner» as well as other fun tennis games!
Registration fee: 55$ + tx
This event is for members and non-members. Feel free to invite all of your friends!
This event is reserved for players ages 18 years old and older.
Minimum playing level 2.5 (intermediate).
NO REGISTRATION WILL BE TAKEN ON THE DAY OF THE EVENT.
No reimbursement after December 5th.
If you wish to reserve a court between 2 and 4 pm on December 10th, be aware only the clay courts will be available.
For any questions regarding the event, please contact Anne Attia at aattia@tennis-ids.com