INFOCLUB – MAI 2022
##English will follow##
TOURNOI DE FIN DE SAISON
Le Club de Tennis Ile des Sœurs organise un tournoi réservé aux membres seulement du 27 mai au 2 juin. Il reste encore plusieurs places dans toute les catégories. Il est possible de s'inscrire à la réception du Club jusqu'au 23 mai.


SAISON ESTIVALE
À partir du 1er juin 2022, tous les types d'abonnements seront honorés en tout temps jusqu'au 31 août 2022 inclus. Nos heures d'ouvertures seront modifiées. Vous trouverez HERE nos offres estivales.


ACTIVITÉS TENNIS – ÉTÉ 2022
Voici notre grille d'activités tennis pour la saison estivale. Celle-ci sera en vigueur à partir du 1er juin.


NOUVEAU COORDONNATEUR AU GYM
C'est avec plaisir que nous accueillons Jose Antonio Olvera comme Coordonnateur du Gym Espace Forme, en remplacement de Jennifer Morse. N'hésitez pas à le rencontrer pour parler de vos entrainements ou pour toute autre question concernant le gym. Voici notre grille d'activités du gym pour la saison estivale.


CONCOURS STROM SPA NORDIQUE
En tant que membre du Club de tennis Ile des Sœurs, bénéficiez de réduction au Spa Strom, et courrez la chance de remporter un prix de 100$ en participant au concours sur la page du Spa Strom.


RETOUR SUR LE TOURNOI ITF JUNIOR
Du 7 au 13 mai, le Club de Tennis Ile des Sœurs était l'hôte d'un tournoi International Junior du circuit de la Fédération Internationale de Tennis. Pas moins de 9 garçons et 7 filles de notre Académie étaient en lice dans le tableau principal. Ce tournoi fut un énorme succès pour nos joueurs, qui ont remporté TOUS les titres disponibles autant en simple qu'en double! Félicitations à tous nos athlètes!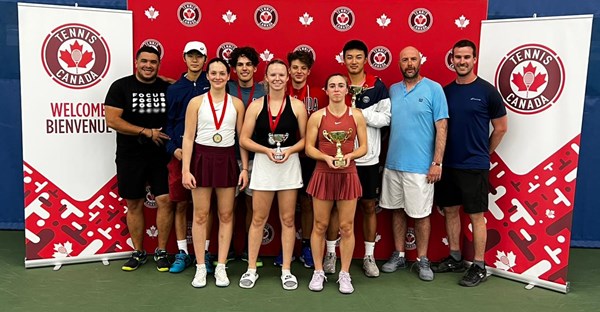 CAMP DE TENNIS – ÉTÉ 2022
Fidèle à notre habitude, le camp de tennis récréatif sera de retour cet été. Les inscriptions sont présentement en cours.
END OF THE SEASON TOURNAMENT
Nun's Island Tennis Club is organizing a tournament for our members only from May 27th to June 2nd. There is still room in all categories. You can register at the front desk until May 23rd.


SUMMER SEASON
As of June 1st, 2022, all membership types will be honored at all times until August 31st, 2022 inclusively. Our opening hours will change and you can find all of our different summer offers by clicking HERE.


TENNIS ACTIVITIES – SUMMER 2022
Here is our summer tennis activities schedule beginning June 1st


NEW GYM COORDINATOR
We are pleased to welcome Jose Antonio Olvera as our new Espace Forme Gym Coordinator, replacing Jennifer Morse. Do not hesitate to contact him to talk about your trainings or any questions you may have in regards to the gym. Here is our summer gym activities schedule.


STROM SPA NORDIQUE OFFER
As a member of the Nun's Island Tennis Club, you have the privilege to save on the services of Strom Spa. Also, enter their contest on their page and get a chance to win a prize of a $100 value.


JUNIOR ITF TOURNAMENT
We had the privilege to host an international junior tennis tournament on May 7th through May 13th. We had 9 of our academy boys and 7 of our academy girls part of the main draw. Our players succeeded in all categories winning every title. We congratulate all of our athletes on their great performances!


2022 SUMMER CAMP
Our recreational tennis camp will be back this summer. Register today!